The 8 Worst Halloween Costumes of All Time
|
Written By Jon Lin, Contributing Editor — Francine Oniara
This year has been a strange year. With all the recent clown sightings, I was expecting to see some creepy clowns wandering the streets of New York City last night. I didn't see a single one. For some weird reason, I was very disappointed. However, I did see an awful lot of unique costumes that were quite frankly pretty terrible. So many in fact, that it inspired me to create this list of the eight worst Halloween costumes of all time.
#8. John Cena. (Halloween 2016)
And his name IS JOHN C—… wait… What. Whatt?? Not sure if this belongs at number eight on our list or if I'm accidentally putting this on the wrong list. This video could possibly be an example of one of the greatest costumes in the history of Halloween. Definitely an outlier, but I'll let you decide. Only time will tell, Mr. Cena… only time will tell.
Warning: You will not be able to unsee the above video.
#7. Hilary Duff and Jason Walsh's Native American and Pilgrim Combo (Halloween 2016)
While Hilary Duff technically didn't do anything wrong (she's dressed as a pilgrim…) she issued a public apology stating that the costumes were not "properly thought through." It's Jason Walsh who is at fault here due to his misappropriating of the war bonnet, a headdress usually reserved for Indigenous men who have earned the respect of their tribe, but after doing a quick Google search for Jason Walsh, I still have no idea who the hell he is. Oh well… I don't really care anymore. I have a list to finish, people!
#6 Julianne Hough's Blackface (Halloween 2013)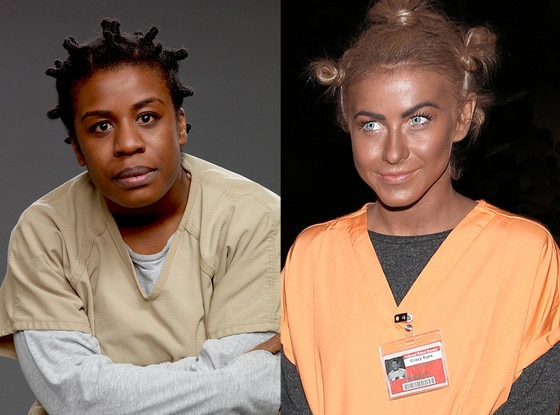 In the early 1800s, minstrel shows were a popular form of entertainment in the United States. The shows which featured white actors painted in "black" faces, depicted black Americans in a negative light and is highly offensive. So it probably wasn't a good idea for two-time "Dancing With the Stars" winner and current DWTS judge Julianne Hough to darken her skin for Halloween back in 2013. She made headlines when she attended a Halloween party dressed as Orange Is the New Black's Suzanne "Crazy Eyes" Warren. She has since issued a public apology.
I am a huge fan of the show Orange is the New black, actress Uzo Aduba, and the character she has created. (cont) http://t.co/z5guo2Ogfi

— Julianne Hough (@juliannehough) October 26, 2013
#5. Chris Brown's "Taliban" Costume (Halloween 2012)
When you are given a platform due to the nature of your work (singer, actor, model, etc.) the worst thing you can do is to promote your willful ignorance of other cultures. Chris Brown however, chose to don a thawb, a collarless garment traditionally worn by Muslim men, during a Halloween party back in 2012.
#4. Colombian Reporter's Blackface And Subsequent Rant (Halloween 2016)
This Colombian anchor Andreina Solórzano shows just how anti-blackness is still alive and well in the Latinx community. Please report her pic.twitter.com/8xpLJ6C61I

— Mariel (@radlimon) October 23, 2016
Colombian news anchor Andreina Solórzano has been receiving quite the backlash from social media sites after photos of her "blackface" Halloween costume surfaced online. The following is an English translation of her Instagram post, which she has since set to private:
"To all of the 'haters' that don't know me nor understand that me dressing black, like that, in BLACK, boldly is nothing but an honor and tribute to those who are a part of a town full of history, of struggles, and it is also of spirit, strength and pure delightfulness, you all are the actual racists," Solórzano wrote in her Instagram post. (Her Instagram page is now private.) "Why don't you judge the people who dress like Chinese people or of other races? [It's] because you all have the same racist gene. I do this happily because today I had an excuse to be who I wanted to be, not just today, but always. I have liked my black people whom I love, respect and admire. Morrongos. In a country where there is a Carnaval de Negros y Blancos to celebrate equality, and where in Barranquilla, without distinction, they dress as black women and black men. [The] outfits reflect the same history that has made them part of the town and this who make this a negative expression have to be stupid. I don't care what you think, my intentions were good. The rest, screw yourselves."
#3. Prince Harry's Nazi Costume (Halloween 2004)
Prince Harry ain't do it right if you ask me… because you just don't wear an nazi memorabilia. What the hell was he thinking? Hopefully, it was just because he was young and susceptible to making stupid decisions. We all made mistakes as youngsters… let's hope he learned from it, and that he isn't some sort of Nazi sympathizer.
#2. Barack Obama Lynching Costume (Halloween 2016)
At the @UWBadgers game and there is a man with a mask of President Obama and a noose. This is racism, why was this allowed into the stadium? pic.twitter.com/zKEqhdDYny

— 😏 (@woahohkatie) October 29, 2016
Two fans thought it would be a great idea to dress up as Donald Trump with a rope lynching Barack Obama during the Wisconsin Badgers win over the Nebraska Cornhuskers at Camp Randall Stadium last Saturday night. The Badgers got the "W" but the school officials that allowed these two to enter the game get an "L."
#1. Guy Dressed As Avonte Oquendo
Maybe I should give this guy the benefit of the doubt. Maybe he was actually trying to spread awareness about Avonte Oquendo, the 14-year-old autistic student who fled from his school in Queens during class hours due to the negligence of the school supervisors. But there's something about his mocking stance and the fact that Halloween occurred nearly a month after Avonte's disappearance (on October 4, 2013) that tells me this guy is a douchebag and should go fuck himself. One thing's for certain though, the people I've spoken to in Queens have made sure that this guy isn't welcomed in town. Rest in peace Avonte. Rest in peace. #QueensKid